As you may know, I'm starting my vacation next Friday and my boyfriend and I are doing a west coast roadtrip! Starting with Seattle, we will spend three nights there, then three nights in Portland where we are going to eat lots of donuts from Voodoo Donuts yeah!! Then,  we will take the road to San Francisco and we will make a stop in a small town on the way there. We are going to spend our last four days in San Francisco, I just can't wait!!
I have been wanting to do a post on what to bring in your luggage for a two-week light travel for a while. I did a couple of backpack travel so I'm quite good at packing smart now! For part one I'll start with what to bring on the plane,  here's some of my tips!
What to bring on the plane:
First, for taking the plane, you have to dress comfortable. My best plane outfit include a nice pair of sporty legging, dark ones, black or dark grey. For the top, the best is layering. Start with a good looking but comfortable tank top, cause it can be hot during the landing and depending where's your destination it can be hot outside too! Then as a second layer use one of your favourite long sleeves. For my part I have a black long sleeves henley shirt, it' perfect! Always bring a nice scarf, this is a key items for travelling smart, on the flight you can use it as a blanket! During your trip you can use it as a blanket at the park, as a picnic tablecloth and of course when it's a bit chilly!
On your feet depending the season, wear a pair of shoes or boots that are easy to remove for security check at the airport. During summer a nice pair of Birkenstock is the best! Now in your bag, use a good size tote and bring:
Your favourite book (not too heavy)
Earbuds for a movie or your music
Your Ipad, Ipod, or whatever you have to listen to your music!
Hand Sanitizer
Light snacks; dry fruits, nuts, chocolate, granola bar.
Bottles of water, you need to keep hydrate cause it's really dry on the plane!!
A rich face and hand cream and use it right before you board.
A pair of comfy socks (cause it's always freezing on the plane)
A good size scarf
Headache pills (just in case)
Eye mask and a neck cushion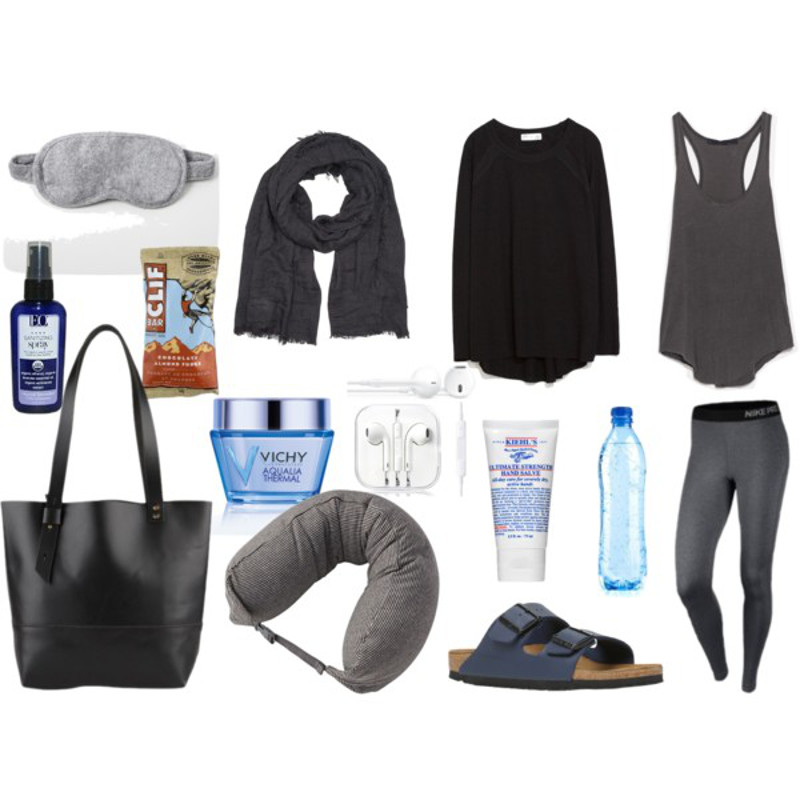 You can find the links on my Polyvore page