Hey! I'm finally able to get Wi-Fi on my computer!! I couldn't get a connection during our stay in Portland, so I have a lot of catching up to do for you guys!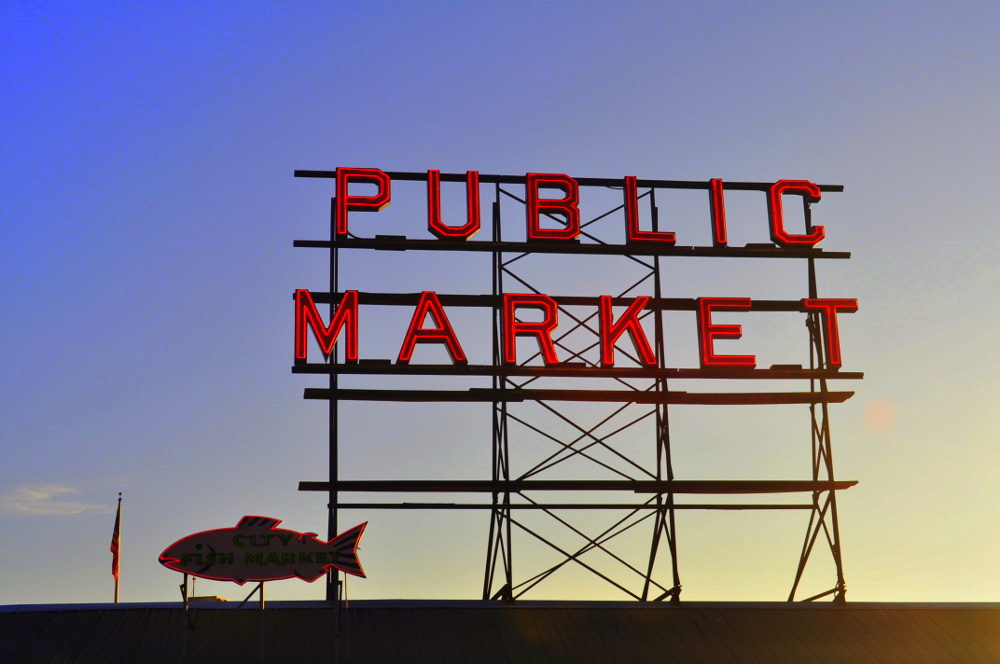 Let's start with Seattle, I have showed you some pictures of Ballard, the neighbourhood where we stayed. The second we got there, we took the bus to explore downtown, we started with Pike Place Market, where we had breakfast near the water. It's a huge market where you can find great local products from food to art. Oh and the first ever Starbuck is there 😉 The Olympic Sculpture Park, was one of my highlights. It's a gigantic park near the water with tons of great sculptures and there's a small beach where you can watch the Sea-lions!! Then we went to Nordstorm, haha of course, it's from Seattle, there was no way I would missed that! I scored a pull-over by Alexander Wang on sale!
At the end of the afternoon we went to visit the Space Neddle, it might look a bit cheesy but seriously, I really enjoyed it! The view of Mount Rainier is breath taking. Oh and we also took a ride on the monorail, so cool, I felt like a kid on a roller coster!!
For our last day we explored the Capitol Hill neighbourhood, my favourite place. There are two places you really have to visit when you go to Seattle, first, my new favourite shop Totokaelo on 10th avenue, the most inspiring shop I have seen for a long time. Then, next door, you have to go to Elliot Bay bookstore, a really good book shop if you are a good reader like me!
Now we are in a small hotel in Eureka, a small town where we stopped between Portland and San Francisco. We are now in California and we will be in San Francisco tomorrow afternoon. Stay tune for the rest of my trip!! xx
Wearing: Biker jacket: H&M / Tee: Boyfriend / Jeans: Zara / Scarf: H&M / Sneaker: Nike / Bag: Herschel /